A few weeks ago I wrote a post about J.C. Penny's and the albatross around it's neck that is the old guard.
Looks like aside from lowering overhead costs they are also possibly addressing that issue.
Today's J.C. Penny's Headlines:
YTD J.C.Penny's stock climed in January but has fallen back to pre-January levels
Since a stock price spike (here, here) in January JCP's stock price has declined since the over hyped pricing plan. While the newly introduced strategy may have been inspired by a 'stick to your knitting' historical business model it has resulted in an expected lack luster consumer acceptance.
The problem is, that at that time JCP was one of a small handful of retailers offering mail order service to rural areas. And that, along with the big city New York fashions are what made JCP a retail lynchpin. Today there are dozens of retailers that have adopted the fast fashion, low price, multi-channel business model. Therefore competing against established brands with not so new retail strategy is inane. While JCP does seem to be building a store within store model using strong-ish brands. Perhaps based upon their successful pre-Ron Johnson Sepora and Mango collaborations may prove to be value adders, however based on the already announced licensees I am doubtful.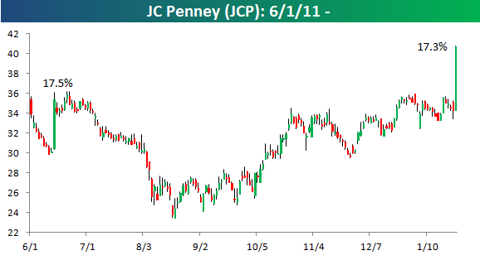 Another hunch I have about J.C. Penny's future is that they might take advantage sometime in the near future of the fact that the Plano Texas office headquarters was designed to work as a shopping mall as a back up plan in case their 1987 move from New York City was unsuccessful. JCP has a history of relocating its headquarters since it's inception in 1907 when James Cash Penny moved the retailer's headquarters to Salt Lake City in order to be closer to banks and railroads.

In 1914 JPC's

headquarters was moved again, this time to

New York City

to simplify the buying, financing, and transportation of goods.
In January rumors were circling that JCP would move back to NYC but those were quickly quashed. Although they do have plans to open a recruiting office in NYC which will double as a design office. This is an apparel industry norm for retailers to position their fashion staff in the hub of fresh fashion design. It is also a throwback to the original JCP model of delivering NYC fashion to all of America. In addition, NYC is where the best talent pool lives. At the same time JCP announced that they would open a San Francisco recruiting office. Purely conjecture on my part, but like the NYC apparel design move, San Francisco would be an ideal location for a home goods and accessory headquarter. Like NYC, the talent pool is deep in San Fran because William Sonoma has an established and well trained workforce ripe for the taking. In addition, like William Sonoma, it would make sense for JCP to locate it's technology headquarters in the Bay Area to capitalize on the local talent pool.
Mass employee pilfering from Target also contributed to the rumors that a move from its valuable Plano Texas headquarters. Because key members of the merchandising team and executive team will need to relocate from Minnesota anyway, a move to the left or right coast could be in the works. Although doing business in NYC and the Bay Area would be much more expensive. But, we must remember that Ron Johnson was located in Silicon Valley for quite a while and may have a penchant for the region and its progressive culture.
JCPenny's is listed on the New York Stock exchange as JCP (NYSE: JCP) $JCP