Feb 26, 2011 China Car Times, originally from Canadian Business
China is expected to surpass Europe as the world's leading vehicle producer in 2011, while Canada will have North America's fastest-growing auto sector in the near-term.....China will represent 28 per cent of overall global vehicle output in 2011.
"Surging car sales in China are also lifting vehicle production in Western Europe, especially Germany," said Scotia Economics senior economist Carlos Gomes in the report.
"In January, global sales for Germany's three major automakers jumped 21 per cent above a year earlier, led by a 31 per cent year-over-year surge in China."
He said the sharp increase as positively impacted manufacturers who are beefing up their production schedules for the first half of the year.
"We estimate that over the past month, European automakers have boosted their first-quarter output plans by more than six per cent and their second-quarter schedules by two per cent," he added.
Meanwhile, Canada's vehicle output will show the highest North American growth the early part of this year,
helped by the re-tooling of Chrysler's
car assembly plant in Brampton, Ont. and ramped up production of the
Buick
Regal at the General Motors plant in Oshawa, Ont.
>>Continue Reading
Updated: 2011-03-02 07:43 China Daily


To promote balanced development of compulsory education, the Ministry of Education has

banned schools from charging "selection" fees

....
But unfortunately balanced development has given way to exam-oriented education. As a result, many parents would do anything to improve the academic performance of their children.
Millions of parents are obsessed with the misconception that a child should not fall behind at the starting line. It reflects the imbalance in educational resources, the reason why the ministry is trying to promote balanced development of compulsory education.....
>> Continue Reading
This isn't your grandmother's China! Luxury fashion from around the world at the fingertips of Chinese consumers.
>> Continue Viewing
Hmmm, why is Pantone touting "Honeysuckle" (read dusty pink) for the US for 2011, but in China they get to stick with the rad-ness of turquoise and Mediterranean blues?
March 1, 2011 Shanghaist
China Digital Times

has a fascinating collection of anti-"

Jasmine Revolution

" tweets from people identified by local Twitter users as being 50-centers.
March 1, 2011 Guardian UK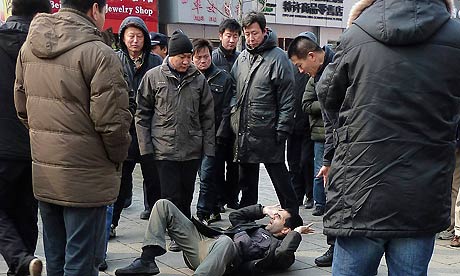 Foreign ministry officials have offered no apology to the Bloomberg journalist who was beaten up by plainclothes officers during last Sunday's non-protest in Beijing, but instead warned foreign journalists toapply for advanced permission when reporting from certain locations. >>Continue Reading
03-01-2011 Shanghai Daily
Thought Shanghai's metro network was big enough? It's set to get even bigger as work on three new metro lines begin. By 2014, we will have 14 lines with a network of over 500km!